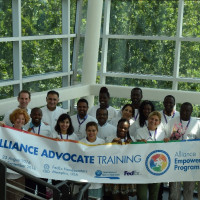 Next month, the 2017 cohort of Alliance Advocates will start their training at the FedEx headquarters in Memphis, US. The 15 Advocates represent 15 countries across five continents including Africa, Asia, Europe, and North and South America.
The Alliance Advocate program does not finish after the two weeks training. Delegates create an ambitious action plan for the future. To be an Alliance Advocate is an ongoing commitment to push for evidence-based road safety solutions and to be role models within the Alliance.
The 2016 Advocates are already making their mark on global road safety. In the last three months alone, we have featured significant changes in national law in Tunisia and the Philippines resulting from the efforts of 2016 Alliance Advocates, and many impacts in other countries.
Next month, the Alliance will launch a new publication presenting the Alliance Empowerment Program, including the Alliance Advocate program, as the Alliance's response to the SDGs. Read more about the Alliance Advocates training HERE and see a video teaser from last year's training HERE.