ROAD SAFETY IN THE SUSTAINABLE DEVELOPMENT GOALS

'Halving road crash deaths and injuries by 2020′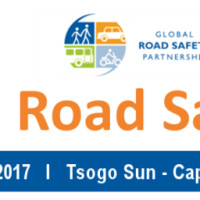 The Global Road Safety Partnership (GRSP) and all of our partners, are scaling up to SaveLIVES across Africa.

To meet the fast-approaching UN SDG target to halve deaths by 2020 we need to share successes and results across the region! GRSP brings together Governments, Financial Institutions, industry and civil society partners who are making an impact.

Join us at Africa Road Safety 2017 from 23-24 October in Cape Town, South Africa as we invigorate our regional efforts to Save LIVES. This comprehensive policy and capability building conference, our 5th annual event in Africa, will provide delegates with a range of practical and stimulating policy leadership case studies, capability building workshops, keynote addresses, high level panel discussions and plenary sessions over two full days.

The World Health Organisation has launched the Save LIVES package that provides countries with an easy and implementable priority list of actions to scale-up and implement quickly. The work of GRSP demonstrates how different stakeholders can contribute to the ambitious road safety targets set out in the SDGs, and how they can partner to Save LIVES.

The Africa Road Safety 2017 event will provide practical knowledge on:
Global success stories from GRSP and our partners
WHO Save LIVES package
The latest on GRSP Road Safety Management initiatives
Coordinating action on Safer Road Users
Don't miss this rare opportunity to join the journey of those who Save LIVES at scale in our region – only at Africa Road Safety 2017!
Key representatives from countries throughout African will attend, including:
senior government officials, from road safety, transport, health, police and education;
bank leaders;
engineers and representatives from transport authorities and motoring clubs;
road safety researchers and experts;
representatives of NGOs working in road safety in the region;
key business representatives with an interest in road safety.
GRSP's regional events have become flagship events on the road safety calendar. Since 2007, more than 2300 road safety practitioners from over 50 countries have gathered to share knowledge and professional experiences, discuss successes and challenges, showcase good practice and build strong regional networks where previously few existed.
Click this link for registration: https://www.ivvy.com.au/event/ars17/